SC to ODVA SC SM Simplex G657A1 Outdoor Waterproof LSZH Fiber Jumper Patch Cord
0
stars, based on
0
reviews
Price:
$31.10$9.50 / piece
Length

10M
20M
30M
40M
50M
60M
70M
80M
90M
100M
Contact Us
Item specifics
Length:
1M,2M,3M,5M,7M,10M,15M,20M,other length
SC to ODVA SC SM Simplex G657A1 Outdoor Waterproof LSZH Fiber Jumper Patch Cord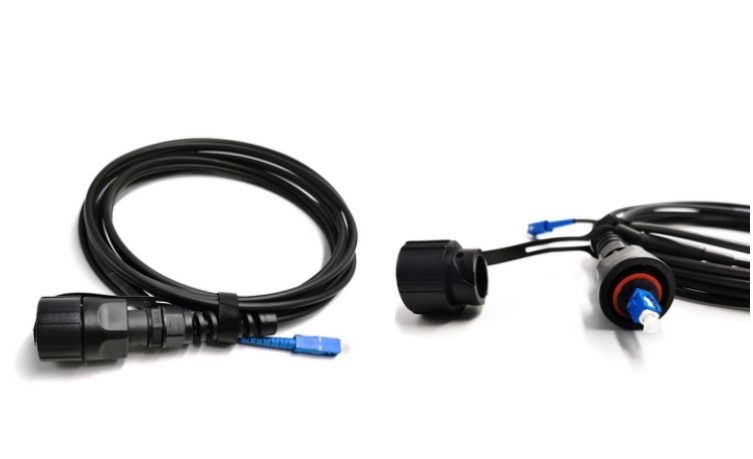 This outdoor waterproof connector attaches to adapter on panel of RRH. The common SC
connector pair inside allows easier testing and cleaning. There are two types of connector
plugs available: threaded and easy-connect bayonet.Harsh environments where
chemicals,corrosive gases and liquids are commonplace.Telecommunication/CATV
Systems.FTTX and Special environmental.Mobile routers and internet hardware.
l Features:
meeting standard of Telcordia GR-326-CORE
Good performance of insert-pluck repeat ability and good interchangeability
IP67 rated to ensure protection from dust and water immersion
Flame retardant materials per UL-94-0
Bayonet-style mechanical lock
| | |
| --- | --- |
| Item | Data |
| Insertion Loss | ≤0.3dB |
| Return Loss | SM/UPC≥55dB, SM/APC≥60dB, MM≥35dB |
| Mechanical life | 500cycles |
| Working temperature | -20°C~+70°C |
| Storage temperature | -20°C~+70°C |
| Protection Level | IP67 |
| Tensile Data | Tensile between junction and fiber cable≥100N |
l Performance:
l Cable Structure:

l Type1: 2×Tight Buffer(0.9mm)+Kevlar+Jacket OD=5.0mm
Cable Count

OD (mm)

Weight

Tensile strength

General attenuation

Minimal Bending radius

Storage temperature

Short term

Long term

Singlemode

Multimode

2

5.0±0.2

25kg

700N

350N

1310nm ≤0.4dB/km

850nm ≤3.0dB/km

20D

-20℃~+70℃

1550nm ≤0.3dB/km

1300nm ≤1.0dB/km
l Type2: 2×Tight Buffer(0.9mm)+Spiral Steel Tube+Kevlar+Jacket OD=5.0mm
Cable Count

OD (mm)

Weight

Tensile strength

General attenuation

Minimal Bending radius

Storage temperature

Short term

Long term

Singlemode

Multimode

2

5.0±0.2

35kg

1200N

600N

1310nm ≤0.4dB/km

850nm ≤3.0dB/km

20D

-20℃~+70℃

1550nm ≤0.3dB/km

1300nm ≤1.0dB/km
l Type3: 2×Tight Buffer(0.9mm)+Kevlar+Inner Jacket+Kevlar+Jacket OD=5.0mm
Cable Count

OD (mm)

Weight

Tensile strength

General attenuation

Minimal Bending radius

Storage temperature

Short term

Long term

Singlemode

Multimode

2

5.0±0.2

30kg

1200N

600N

1310nm ≤0.4dB/km

850nm ≤3.0dB/km

20D

-20℃~+70℃

1550nm ≤0.3dB/km

1300nm ≤1.0dB/km